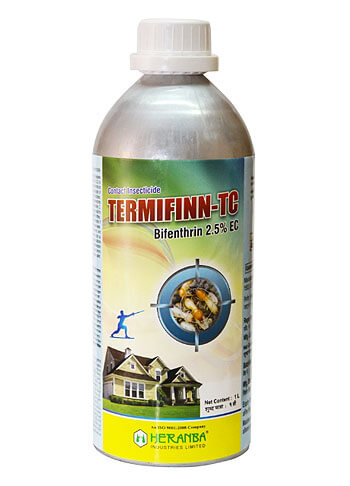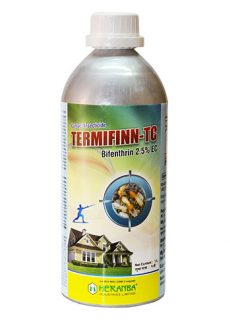 Trade Name :
Description :
Termifinn-TC is an insecticide, effective for termite control. For use in pre and post construction, anti termite treatments.
FEATURE :
Its controls termites by contact action and provides knockdown effect.
Is safe and environment friendly product.
Provides double protection by acting as repellent barrier and also kills live live termites.
Is tolerant to pH variation. It can be applied to acidic as well as alkaline soil.
MODE OF ACTION :
Contact and stomach action.
DOSAGE :
(1) Pre and post construction. Termifinn-TC shall be applied at 0.05% a.i. concentration. i.e. 20.00ml formulated product diluted in 1 liter of water for the control of termites in building during pre and post construction. Treatment should be as per IS 6310 (Part-2):2001 for pre construction chemical treatment and IS 6313 (Part-3):2001 for post construction treatment of the existing building.
(2) Recommendation for use of control of wood borer (Powder Post Be btle) in plywood,veneer and wood:
Plywood
Glue Line Poisoning Dipping
10g/cubic meter of wood
0.025% Solution
400ml formulation per cubic meter of wood
Mix 1 lit of formulation in 99 lit of water to make 0.025% Solution
Venner
Dipping
0.025% Solution
Mix 1 lit of formulation in 99 lit of water to make 0.025% Solution
Wood
Dipping/Brushing
0.025% Solution
PRESENTATION :
1 Ltr,5 Ltr,20 Ltr and 200 Ltr.
Pre construction Anti-termite treatment
Treatment for Masonry Foundations & Basements STEP :
STEP:1 Bottomand sides of trenches
After digging the pit
Treat bottom surface & sides of excavations made from masonry foundation & basements
Treat with Termifinn-TC to aheight of 300 mm.
At adose rate of 5 ltr/ Sq.mtr.
STEP:2 :BackfillinImmediate contact with foundation wall
After masonryfoundation & the retainingwallof the basement is built.
The backfillin the immediatecontact withthe foundation tobetreatedwith TermifinnTC.
Trea!Termifinn-TC @ 7.5ltr /sq.mtr.of the
STEP:3 :Top Surface & Plinthfllllng
The top surface of the consolidated earthwithin plinth walls shall then be treated.
TrealTermifinn-TC @ 5 ltrI sq.mtr. of the surface before thesand bed orsubiJrade islaid.
Treatment of RCC Foundations: Treatment should start ala depth of 50 cmbelow groundleveltreatwithTermifinn-TC @ 7.5 ltrI sq.mtr.
Post construction Anti-termite treatment
Soil treatment along external perimeter of building : Ear tha long the external walls of the building should be rodded at inter vals of 15 cm and to a depth of 30 cm exposing the foundation wall surface. Termifinn-TC solution should be poured along the wall @ 7.5 ltr per sq.mtr. Of vertical
Treatment of soil under apron along external perimeter of Building : Top surface of the earth over which the apron is to be laid shall be treated with Termitinn-TC solution @ 5 Ltr/ sq. mtr.of the vertical surface.
Treatment of soil under floor : To prevent entry of termites from cracks,soil under floor should be treated.Drill 12mm holes at the junction of floor and wall at30 cm interval to reach the soil below.Squirt the Termifinn-TC solution@ 1ltr per hole and seal.
Treatment of voids in masonry : The movement of termites through masonry walls may be restricted by drilling holes in masonry wall at about 45° angle preferably from both sides of the plinth wall at 30 cm interval and squirt the chemical in hole still refusal and seal the holes.
Treatment of Upper Floors : In case of infestation in upper floors,treat ground floor of the existing building as described above.